In order to maximise the impact of the experiments, each of them will be accompanied by a Digital Innovation Hub (DIH) which will provide help from proposal writing to technical and business support for each use case.
The DIGITbrain consortium includes 6 DIHs (initial consortium) with an overall European coverage; thus, reaching most of the European territory, and allowing the creation of new connections with surrounding manufacturing companies and DIH networks. The added value provided by the DIHs in the DIGITbrain project will serve as well to attract new potential users for the DIGITbrain solution, as well as its expansion both in terms of geographical coverage and multi-sector use.
Furthermore, the DIHs will raise awareness within their regions, support the Open Calls, accompany the execution of the experiments, and reinforce the implementation and execution with regional funds. The following network of DIHs will accompany the project from the start. The figure shows, which DIH is responsible for which area.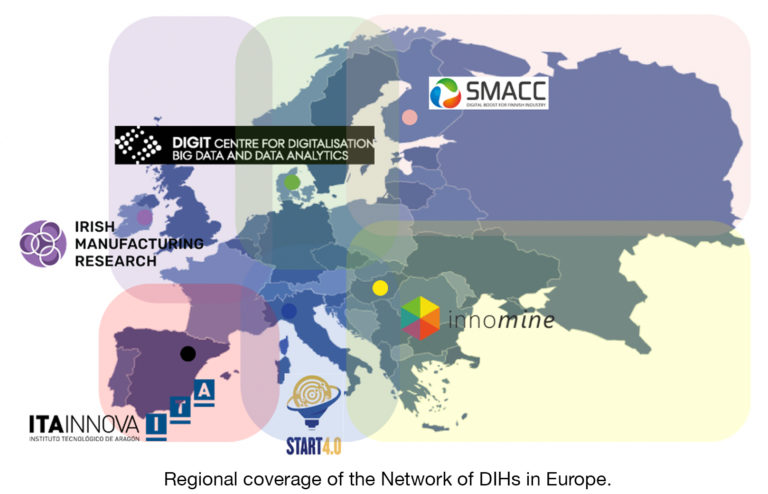 Find the right Partner DIH in your region!
START 4.0 (Italy – Southern region):
START 4.0 is an association sponsored by the Italian Ministry of Economic Development, focusing on Industry 4.0. START 4.0 is a Public Private Partnership led by the Italian National Research Council (Consiglio Nazionale delle Ricerche, CNR) with the goal of offering services concerning: digital strategy (evaluate the level of digitization as well as the technology potential of enterprises and SMEs); training (promotion and dissemination of competences related to Industry 4.0); and participation to RD&I collaborative projects foster the open innovation transition of enterprises and SMEs). START 4.0 has a network of 1000+ partners Europe-wide and among the associated entities, it is worth mentioning STAM, Confindustria DIH, the Italian Institute of Technology (IIT), ABB, and the University of Genoa.
ITAINNOVA - Centro de Innovación Digital de Aragón (Spain – South-Western region):
ITAINNOVA, the Aragon Digital Innovation Hub on HPC-Cloud and Cognitive Systems for Smart Manufacturing processes, Robotics and Logistics (Aragon DIH) is the Aragonese initiative that, within a framework of European cooperation, extends the strategy of Economic and Industrial Promotion of Aragon and the Intelligent Regional Strategy of Aragon towards the digitization of the industry. For this purpose, research institutions, competence centres, innovative companies and clusters are involved, as well as the business development agencies and the authorities in charge of supporting and defining the Aragon Industry Strategy 4.0 (AI4.0).
Irish Manufacturing Research (Ireland – North-Western region):
IMR are perfectly positioned to accelerate the design, development and uptake of advanced digital technologies by European industry, especially SMEs and mid-caps. IMR supports the manufacturing sector in Ireland, helping them use secure digital technologies in their production processes, products, and business. Formalised by industry and government in 2014, IMR is a small, agile, non-profit, independent research organisation at the heart of a regional ecosystem of partners on the periphery of Europe. IMR have two physical locations in Ireland (a Manufacturing Lab in Westmeath and an Innovation Centre in Dublin).
DIGIT (Denmark – Northern region):
DIGIT focuses on different kind of digitalisation technologies also in the manufacturing context. For instance, the Danish MADE projects virtually involves all Denmark's manufacturing companies, where AU is leading the research in smart products and in relation to Digital Twins (https://www.made.dk/). Initial in-house manufacturing capabilities supporting MaaS has been started up. Research areas includes cyber-physical systems, machine learning, big data, IoT, cybersecurity, digital business models, and blockchains.
innomine (Hungary – South-Eastern region):
innomine Digital Innovation Hub is specialised in digital transformation, primarily in area of Industry 4.0 and has a cross-disciplinary team of professionally qualified experts, with research and consultancy expertise in management, technology and European funding. It was launched in 2016 as a separate legal entity with the support of innomine Group and many other stakeholders. innomine DIH has been selected in 2017 by EC within the Support and mentoring program for DIHs in new Member States programme and has completed it in 2018 with success. innomine DIH relates to other local policy initiatives and currently is leader of a Structural fund supported project to scale its DIH activities in the Southern Transdanubia region.
Smart Manufacturing DIH (Finland - North-Eastern region):
SMACC is hosted by State Research Centre VTT and Tampere University (TAU). SMACC is a cooperation platform for both industrial cooperative activities and scientific research activities. SMACC's mission is to combine SMEfavourable (agile) operation model with scientific competence, disseminate enthusiasm, and encourage for innovations, forming an R&D ecosystem. SMACC has eight research areas: Autonomous machines and robots; Data based service innovations; Digital life-cycle management; Digital Twin; Engineering material science; Advanced digital and hybrid manufacturing; and Industrial robotics and production. Prototype manufacturing facilities are available in manufacturing lab for research purposes and pilot production: CNC-machines, 3D-printers, powder piloting services, laser equipment available, measurement equipment, material testing and design. Many manufacturing companies are involved in the network, which have manufacturing facilities and resources all around the Tampere region.
Who else is in the project?
Contact our team directly.