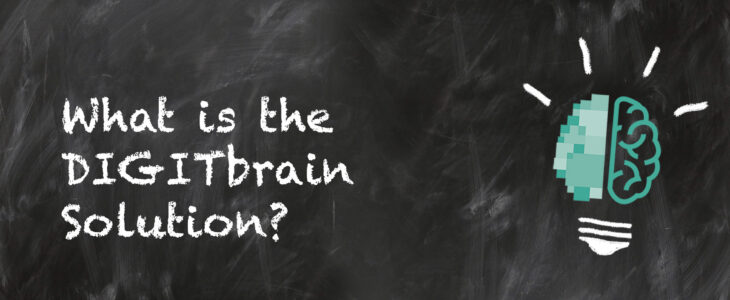 Digital twin technology has been rapidly growing in recent years as a means to improve the efficiency of various industries. Especially in manufacturing digital twins are used, to improve production processes. DIGITbrain Project is being funded by the European Commission to facilitate the distribution and utilisation of digital twins in the manufacturing industry by:
introducing a modularised approach which will facilitate the development and customization of Digital Twins utilizing preconfigured components
augmenting the Digital Twin concept to a smart, self-preserving entity – the Digital Product Brain - that's equipped with memorizing, decision and support capabilities.
enabling the Manufacturing as a Service business model, which provides utmost flexibility for manufacturers who will be enabled to remotely access manufacturing machines they need and new business opportunities for machine providers.
Innovation Network for Digital Twin Solutions
The DIGITbrain Project aims to achieve these goals not only by introducing whole new innovative approach to digital twin development, but by creating a community-driven ecosystem, uniting a developer workspace and marketplace allowing for the facilitation of development, sharing, and adoption of Digital Twins in the manufacturing sector. This workspace aims to combine forces of stakeholders from the manufacturing industry, such as manufacturers, manufacturing equipment builders, software developers, data scientists, and service providers, who can use it to collaborate and benefit from each other's expertise. Potential stakeholders to share their know-how and software components on the DIGITbrain solution.
DIGITbrain Community
The DIGITbrain community that's going to be created, aims to be a collaborative platform where participants can connect, share knowledge, and work together on innovative Digital Twin solutions for manufacturing. This community-driven approach encourages the exchange of ideas, best practices, and experiences among different stakeholders, fostering innovation and accelerating the development of advanced Digital Twins for various industrial applications.
DIGITbrain Solution
The DIGITbrain Solution serves as a one-stop-shop for users to access and acquire a wide range of Digital Twin assets, such as models, algorithms, microservices, and data. It allows developers and service providers to offer their products and services to manufacturing companies interested in adopting Digital Twins to optimize their production processes. Do you want to read more about DIGITbrain's modular approach for Digital Twin development? If so, klick here.
The Digital Product Brain to enable Manufacturing as a Service
DIGITbrain is meant to accelerate Digital Twins development thanks to pre-configured components. This main characteristic – in turn – will unlock the possibility to democratize the access to advanced manufacturing machines, that otherwise would sit idle within their facilities, through what has been called Manufacturing as a Service (MaaS) business model.
This revolutionary business model allows companies (SMEs) to complement and extend their manufacturing capabilities by using advanced manufacturing machines that they do not have and use this machine more effectively by leveraging on digital twin-related solutions. In other words, SMEs will be able to rent advanced machineries and remotely monitor and validate what they are doing thanks to the support of a dedicated Digital Twins. The manufacturing capacity will be offered through the digital marketplace, the interface where users and providers will be able to respectively access and provide the services.
Stay up-to-date on project activities!
Subscribe to our Newsletter!