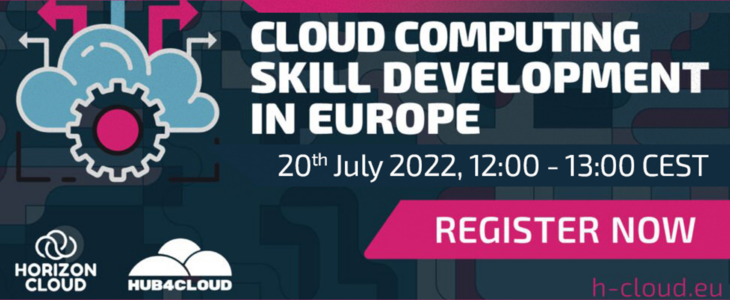 The COVID-19 crisis highlighted how digitalisation is crucial to ensure our society and economy can still function also in extreme emergency cases and how cloud technologies play an essential role to ensure private and public service resiliency. A major obstacle to overcome though is the capability for organisations and citizens to quickly take up on those digital skills that are needed to understand, adopt and use such technologies. The role European Cloud Computing projects and the outcomes they generate can play in skills development/upskilling and education, especially when it comes to advanced cloud technologies, is fundamental for the future of Europe and for the realisation of its data and industrial strategy.
Through this webinar, we will discuss and learn from the different players in the market about the European cloud computing skills gap and ways to bridge them.
Date: 20th July 2022, 12:00 - 13:00 PM CEST
Agenda
12:00 – 12:05: Welcome and introduction - HUB4CLOUD
12:05 – 12:20: Presentation "Cloud Computing skills data from Barcelona Digital Talent" - Marta Portalés, EU Project Coordinator, Mobile World Capital
12:20 – 12:35: Presentation "Insights into I4MS Digital Skills initiative" - Paula Cervera, EU Project Manager, Mobile World Capital
12:35 – 12:50: Presentation "Cloud computing skills gap – an I4MS perspective" - Andreas Ocklenburg, Co-Founder & CEO, cloudSME
12:50 – 13:00: Open discussion, Q&A and Closing
Stay tuned about the project's progress - subscribe to our Newsletter!
Did you already get the latest news?