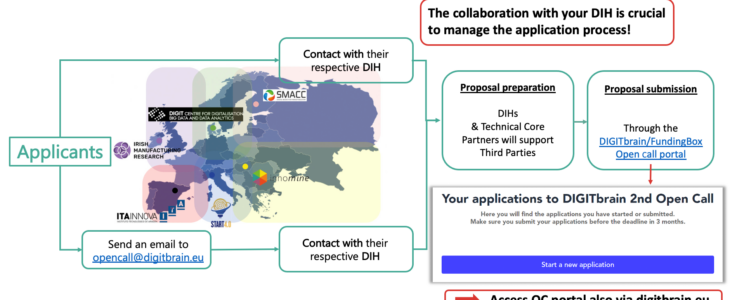 Do you want to apply for DIGITbrain Open Call, but you are not sure how to manage the application process? Don't worry, you don't have to do it all on your own. Our team will be there, to help you!
Copy e-mail address with right mouse click!
It's not always easy to figure out, where to start! These are the steps to follow in the process:
1.) Read Open Call FAQs and Download the Documents!
In the DIGITbrain FAQs you will find most information on the application procedure and eligibility of experiments. Please read carefully and download the Open Call documents to prepare to your application! Especially the Guide for Applicants will informalities you in depth on DIGITbrain Open Call.
Find all information you will need, here.
If you missed our Open Call webinars, you might also want to watch their recordings. Our partners explain the Open Call and the Project's scope in the video.
2. ) Draft your idea
Before you contact us, please roughly draft your idea / outline your experiment proposal and team up with possible partners.
The minimum number of partners in an experiment consortium must include:

One End User (mainly SMEs); and
One Technical partner acting as Independent Software Vendor (ISV), engineering, or software consultant.

 All Third Parties must come from the European Member States, Associated Countries, or the United Kingdom [1]
According to the EC rules, no Third Party is allowed to have received more than 100,000 EUR from Horizon 2020 I4MS and SAE Open Calls[2].
[1] For further information, please visit: https://ec.europa.eu/info/research-and-innovation/statistics/framework-programme-facts-and-figures/horizon-2020-country-profiles_en
[2]
DIGITbrain will receive assistance from the European Commission to cross-check if an organization that has been shortlisted for funding under the current DIGITbrain's OC2 has already received FSTP via an Open Call under any other H2020 I4MS/ SAE Project and to ensure that the right funding is allocated to a Third Party in case it exceeds the above threshold (including any DIGITbrain potential funding).
3.) Contact us!
Contact us!
Write to opencall@digitbrain.eu and send us your draft. Your e-mail will be reveived by our partner at Technological Corporation of Andalusia (CTA), which is responsible for cascade funding in DIGITbrain Project. They will also make contact to a suitable Digital Innovation Hub (DIH), if you wish.
4.) Make contact to your respective Digital Innovation Hub!
Make contact to your respective Digital Innovation Hub !

The collaboration with your Digital Innovation Hub (DIH) is crucial to manage the application process! If you wish to choose a Digital innovation Hub yourself (either by language or region), you'll find here a list and their contact addresses.* The DIGITbrain consortium includes 6 Digital Innovation Hubs (DIHs) with an overall European coverage; thus, reaching most of the European territory, and allowing the creation of new connections with surrounding manufacturing companies and DIH networks. Those Digital Innovation Hubs (DIH) will provide help from proposal writing to technical and business support for each use case.
*Please be aware that choosing a DIH yourself might not guarantee that you can work together with the DIH. In case the DIH has too many requests, based on an internal decision an alternative DIH will be assigned to your experiment.
5.) Apply!
Prepare your proposal
DIGITbrain - Digital Twins for Manufacturing
What is DIGITbrain Project about?
In its lifetime, DIGITbrain project will implement 21 highly innovative experiments, eligible by up to 97,8K Euros (in the second Open Call) each. Every experiment is expected to build a team of a manufacturing end-user, technology provider(s), research organisations, High Performance Computing providers or Digital Innovation Hubs, in order to implement an individual use case-based Digital Twin.
Open Calls are ahead! Don't miss it!
Stay tuned - subscribe to our Newsletter!
Did you already get the latest news?