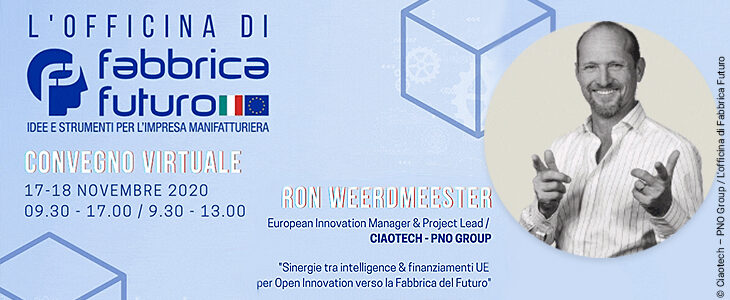 DIGITbrain speech at L'officina di Fabbrica Futuro
The challenge the European industry faces today is to discover, understand, develop and integrate new technological solutions at an increasingly faster rate.
Open Innovation and public financing offer unique opportunities for "innovation and technology intelligence", in order to identify external experts and the latest technologies to inspire the innovation process. In addition, European research and innovation projects and ecosystems, such as the DIGITbrain project, provide support and funding to accelerate the adoption of the most innovative technologies in a concept of collaborative innovation for the future of our factories.
The workshop "L'officina di Fabbrica Futuro" (The Future Factory Workshop) will examine the technological and cultural tools that will enable us to plan the future of our factories with experts and industry representatives in a rapidly diversifying environment.
PNO Consultant Ron Weerdmeester will join the online event to discuss about synergies between innovation intelligence & European grants towards the Factories of the Future. As a best practice, he will illustrate the Digitbrain project coordinated by PNO.