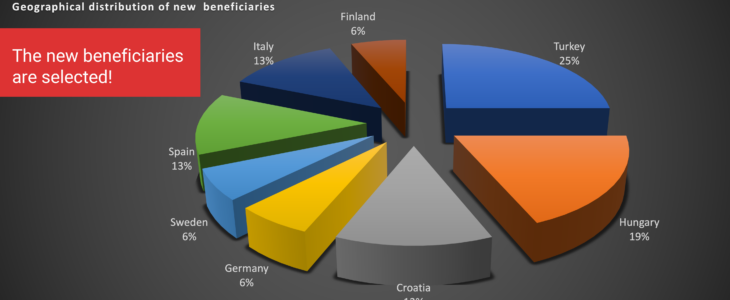 With 37 proposals received, DIGITbrain Project's second Open Call for application experiments turned out to be an even bigger success than the first one in 2021. More than 80 organisations from 18 countries applied until closing date on 31st May 2022. Another seven experiments have now been selected to receive about 93K Euros on average for the implementation of a digital twin for manufacturing.
Participants from eight countries involved
85 organisations from 18 countries, of which seven have been led by women, teamed up in 37 proposals that were submitted in the second open call by DIGITbrain. Overall, 74 SMEs, eight mid-caps and three external DIHs from 18 countries have been involved in the consortia applying for participation in the project. The seven teams that will now take up work in the project for the upcoming twelve months, unite 12 SMEs and three mid-caps from Hungary, Turkey, Germany, Finland, Italy, Spain, and Croatia.  The winning proposals had been selected out of 35 proposals that were considered eligible by the evaluators and cover a wide range of the manufacturing sector.
A total of 652.655 Euros funding is available for the experiments of the 3rd wave, which makes 93K Euros on average for each of them. The exact funding amount depends of course on the respective funding needs. Thus, the entire budget of 3,6 Mio Euros, allocated for the applicants was requested. As a final result of the DIGITbrain Project the experiments will be integrated into a Digital Marketplace (Digital Agora), which is currently being developed.
Klick on the button to learn more about DIGITbrain's new wave of experiments:
Our 1st Open Call Webinar will be announced soon! Don't miss it!
Stay tuned - subscribe to our Newsletter!
Did you already get the latest news?