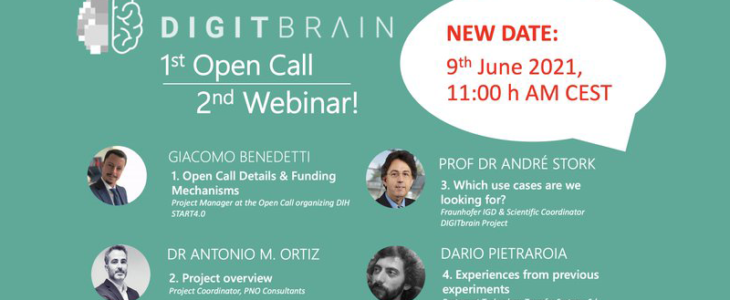 This 2nd webinar for the first Open Call by DIGITbain had to be rescheduled, due to organizational reasons!
When:
NEW DATE: 9th June 2021, 11:00 h, AM CEST
The webinar will give you an overview on the DIGITbrain project and prepare you for the application process. By learning more about what DIGITbrain is, which are the expected use cases and what other SMEs like yours have already achieved within the project, you will better hit the narrow target of the Open Call.
Take me to registration site!
The first Open Call will end at the end of June, thus it is a very last minute opportunity to talk to our experts. If you have any question you would like to have answered before or want to leave a note about what topic / question you'd like to see addressed in the webinar, feel encouraged to get in contact with us before this date: opencall@digitbrain.eu.