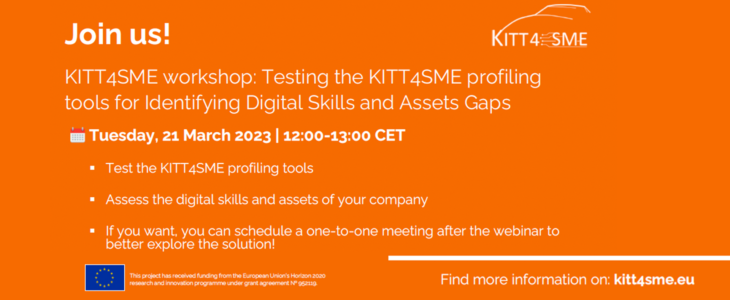 The AI Revolution is concretely affecting the way we work and live: companies that have invested in digital innovation over the past 5 years now need to align their internal competencies to maximize their return on investment. However, given the speed and often unpredictability with which innovation manifests itself, tools capable of measuring the impact that technology is having on jobs and skills are still being designed.
In light of the above, in this workshop KITT4SME project (Horizon 2020) presents its Worker and Production profiler, two self-assessment tools designed to detect the digital skills and assets gaps the need to be fulfilled to evolve in terms of digitization. The outputs of the tools bring extraordinary value to the firms, enabling the definition of a customized retraining strategy and guiding decision makers in their investments in new technologies.
If you are interested to join them in this exciting journey, to try two new tools which could help you in your digitalization process, and to provide your feedback in terms of content and functionalities of the tools, please register below. You will receive the final agenda and a link to the Zoom event one week before the workshop. (The workshop language will be English.)
Date: 21 March 2023
Time: 12-13h CET
Want to get a reminder to this workshop?
Subscribe to our Newsletter!