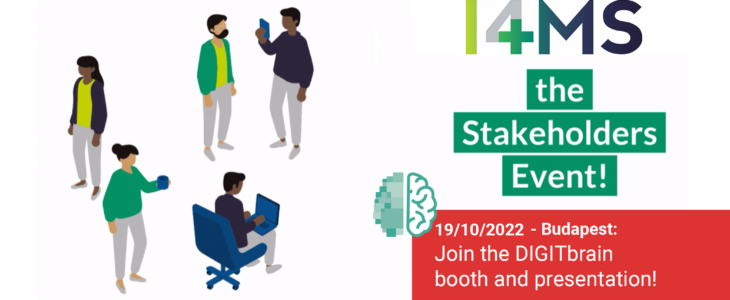 Join DIGITbrain Project on 19th October 2022!
The I4MS initiative celebrates its final event "European leadership and digital game-changers of the manufacturing industry" on 19th of October in Budapest, before it turns into I4MS2. I4MS2 will address more significantly a sustainable and resilient production. The final event will bring together the manufacturing ecosystem and exchange success stories, lessons learnt and know-how.
The conference will be focused on networking and showcasing opportunities for European Digital Innovation Hubs (EDIHs), European projects, SMEs, technology providers and other stakeholders of Industry 4.0 driving innovation and technology adoption across the EU. In an exhibition area it will provide tours to discover the use cases, gamified networking activities and panels and keynotes about tools, funding opportunities and more, to accelerate the digital transformation of the EU manufacturing industry. DIGITbrain Project is one of the Innovation Actions of Phase 4 that is invited to present an experiment success story at the event. The project will be represented there by IDM systems who will present DITAC Experiment, which aims to reduce the efforts needed for an after-sale change, providing virtual support/simulation for the required design changes using a digital twin.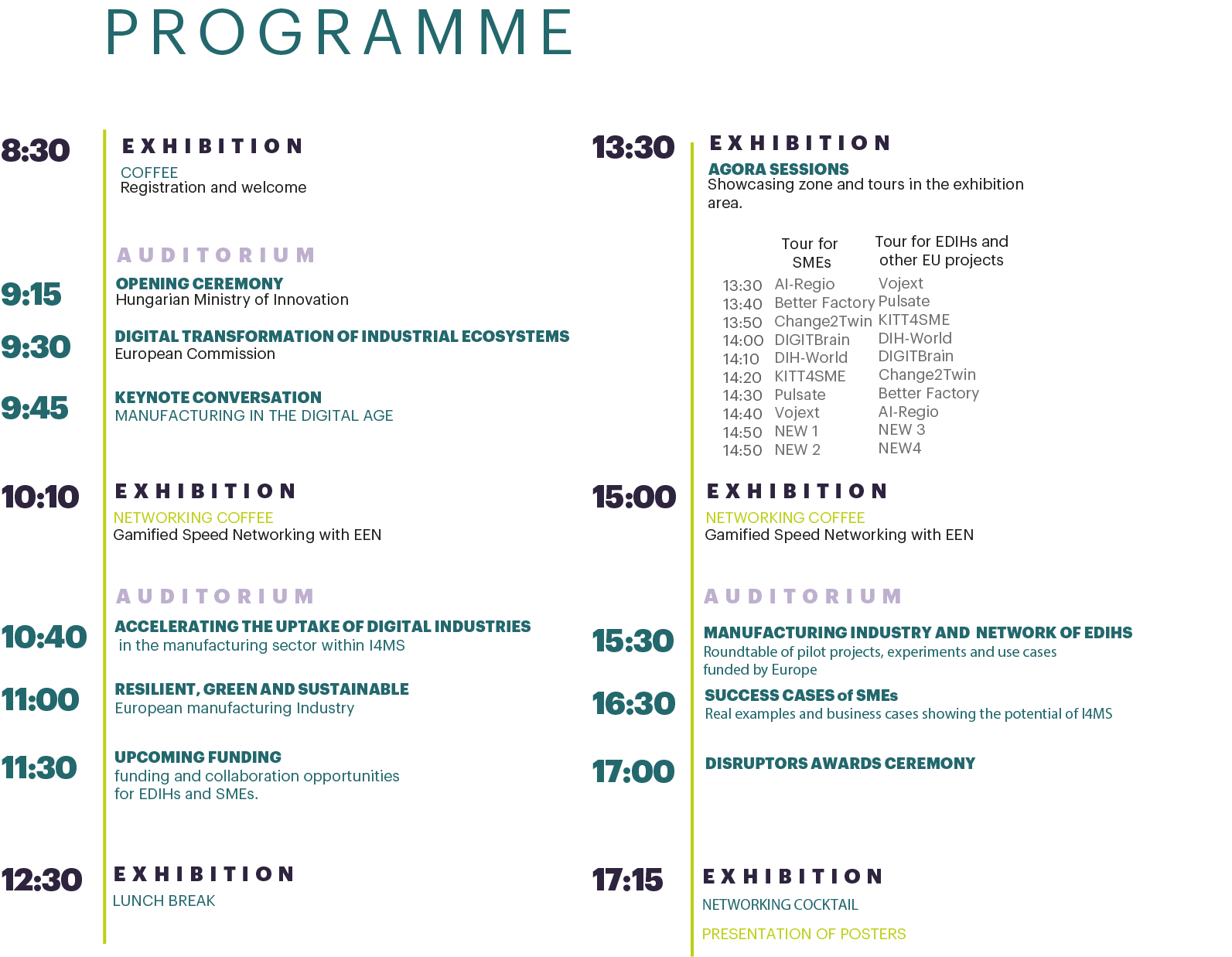 The event will also give opportunity to other Innovation Actions from I4MS phase 4 to showcase their activities. and results. Among them will be AI Regio, Vojext, KITT4SME, Pulsate, Change2Twin, Better Factory, but also CloudiFacturing Project from Phase 3, which will be presenting the emGORA workspace - the European B2B ecosystem for smarter manufacturing. It delivers a multi-cloud environment to allow for users to safely collaborate and explore advanced manufacturing tools that seamlessly access high performance computing resources in Europe.
The four I4MS phases fostering innovation in manufacturing SMEs
I4MS is the initiative to digitalise the manufacturing industry in Europe, means to provide access to competences that can help in assessing, planning and mastering the digital transformation,  access to innovation networks of a broad spectrum of competences and best practice examples and financial support to SMEs and mid-caps on the demand and the supply side to master the digital transformation. Under I4MS, SMEs can apply for technological and financial support to conduct experiments allowing them to test digital innovations in their business via open calls. In meanwhile 4 phases (the fourth phase is currently up and running) I4MS supported the implementation of more than 500 applications and the number of supported use cases is expected to grow to about 700 by the end of phase 4.
Phase 1 started in July 2013 and focused on creating Digital Innovation Hubs (DIHs) and building a core I4MS community/ecosystem.
Phase 2 was launched in Fall 2015, with the aim of further growth of the core I4MS community/ecosystem.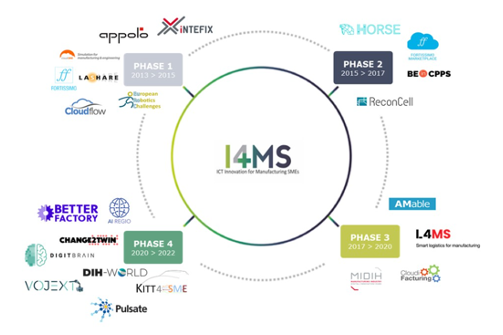 Phase 3 was underway in September 2017 and aimed at reinforcing the I4MS ecosystem. During this phase, European SMEs and mid-caps were exposed to new approaches and methodologies on business models, access to financing, and training opportunities to re-skill staff. A total funding of €34 million was available under Phase 3.
Phase 4 (launched in June 2020 and is currently running) finally focuses on helping service suppliers (IAs, DIHs and CCs) to provide a business-oriented description of the technological services they offer, complemented with Best Practices identification. A total funding of €35 million is available under Phase 4.
An I4MS success story: a mutually supporting network of European Innovation Initiatives
What is I4MS initiative?
I4MS initiative not only supported manufacturing SMEs in several hundred cases. The commitment of the I4Ms network continues. Innovation Actions, such as CloudiFacturing Project, which DIGITbrain Project builds on, will help continue the work that has been done in different innovation Actions, by creating a marketplace for manufacturing innovations, that can be used by them to publish their results and make them available to interested parties. By creating the above mentioned emGORA workspace, the European B2B Ecosystem for Smart Manufacturing it provides a a workspace and community that brings manufacturers needs and providers capabilities in line. It provides a multi-cloud environment that allows for safe collaboration and exploration of advanced manufacturing tools before investing. emGORA workspace is being operated by cloudSME - cloud Architects. The SME itself ia the product of a European Innovation Project, namely the cloudSME Project (2013-2016) which has developed a cloud-based, one-stop solution that significantly lowers the barriers regarding the uptake of advanced simulation technologies in small and medium-sized manufacturing and engineering companies. cloudSME provides a scalable platform for small or larger-scale simulation and enables the wider adoption of such technologies. Doing so, the cloudSME simulation platform supports end-user SMEs to use customised simulation applications in the form of Software-as-a-Service (SaaS). Simulation software providers and consultancies will gain access to a Platform-as-a-Service (PaaS) solution that will enable them to quickly assemble customised simulation solutions in the cloud for their clients.
Get the latest news out of DIGITbrain Project!
Subscribe to our Newsletter!