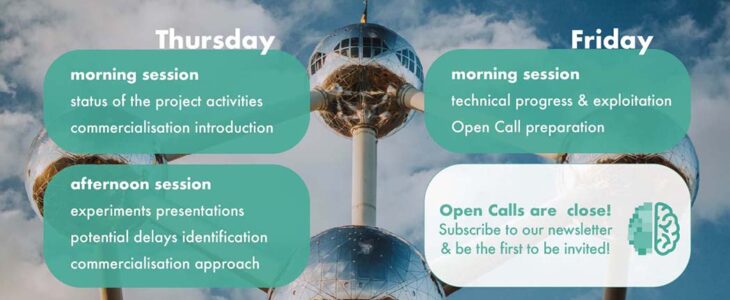 DIGITbrain's General Assembly
In the last days, our project members are busy to get ready for the first General Assembly of the H2020 Innovation Action DIGITbrain - upcoming Thursday and Friday, we will meet up in the virtual space to present the overall status of the project activities and it's the first wave of experiments, which are currently being performed.
Agenda for the General Assembly
Thursday, 10th of December
morning session
overall status of the project activities and commercialisation introduction
afternoon session
experiments presentations, discussions, potential delays identification, and commercialisation approach
Friday, 11th of December  
morning session
technical progress, exploitation, and open calls preparation
The democratization of Advanced Digital Solutions
The development of the Digital Product Brain will embrace the evolution of distributed and localized manufacturing service models (e.g. "Manufacturing as a Service / MaaS") and will contribute towards the democratization of advanced digital solutions. Manufacturing as a Service holds many possibilities for manufacturers and engineers, but we cannot neglect lots of open technical, operational, commercial, and legal questions waiting to be answered.
DIGITbrain project and its partners will put the open question on the table to tackle these challenges as a team. Over project lifetime, we will conduct more than 20 MaaS use cases (2 Open Calls planned) in order to support European DIHs adapting new services in their regional networks.
DIGITbrain's umbrella initiative I4MS
I4MS is the initiative to digitalise the manufacturing industry in Europe, means to provide access to competences that can help in assessing, planning and mastering the digital transformation,  access to innovation networks of a broad spectrum of competences and best practice examples and financial support to SMEs and mid-caps on the demand and the supply side to master the digital transformation.
In other words, I4MS unites an impressive bunch of competencies, motivation, R&I projects and ambassadors that will support you and your team to achieve the desired digital transformation for the future.
Open Calls are ahead! Don't miss it!
Stay tuned - subscribe to our Newsletter!
Did you already get the latest news?