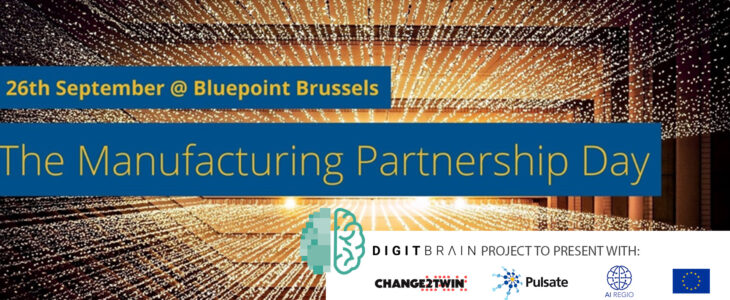 We are excited to be part of the EFFRA Manufacturing Partnership Day on 26th September 2023 in Brussels! The Manufacturing Partnership Day is set to be an insightful event, bringing together key players in the manufacturing industry to collaborate, share knowledge, and forge new connections. The event's agenda boasts a diverse range of topics, including Industry 4.0 and Digital Transformation, Sustainable Manufacturing, Advanced Robotics and Automation, Cybersecurity in Manufacturing, Additive Manufacturing and 3D Printing and Human-Machine Collaboration.
This event aligns perfectly with our mission to drive innovation and digital transformation in the manufacturing sector. Collaboration is key to advancing the industry, and we look forward to forming valuable connections and exploring potential partnerships.
The event offers DIGITbrain Project a platform to showcase its final results which are represented by cloudSME at the event. Their presentation will introduce the DIGITbrain solution, enabling a modularized approach to the development of digital twins, the Digital Product Brain, and the Manufacturing as a Service Concept. Learn more here.
About EFFRA Association
The European Factories of the Future Research Association (EFFRA) is renowned for its efforts in driving innovation and digitalization in the manufacturing sector. The annual Manufacturing Partnership Day serves as a focal point for industry professionals, researchers, and policymakers to discuss the latest trends, challenges, and opportunities in the field.
Meanwhile, for more information, please visit the EFFRA Manufacturing Partnership Day`s official website: