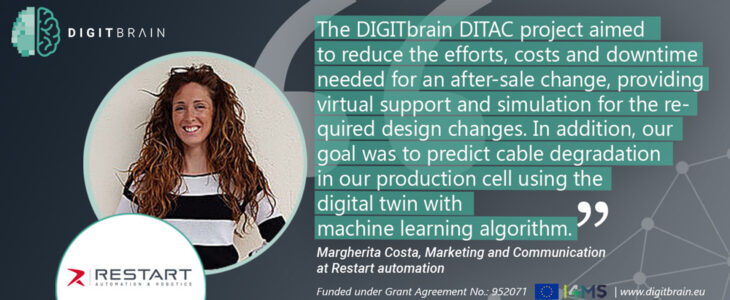 Wave 2 of DIGITbrain's experiments is now coming to an end and another seven application experiments are about to be completed. Each of them brought together team of experts in order to implement an individual use case-based Digital Twin that solved the problem of the participating manufacturer. The DITAC (DIgital Twin for Agile Changes) experiment focused on the investigation and implementation of methodologies to introduce digital twin-based solutions to the design process at Restart Srl, an SME specialized in supply (from design to material realization) of tailor-made industrial automation solutions to provide important support in case of after-sales changes.
As a matter of fact, in the Restart case, after-sales requests for changes from the final user (e.g. due to necessities of production of a similar model of the same product) are not isolated and they request significant work on the machine, causing interruption of work/production. Before DITAC, the modelling phase involved only the mechanical design, through the use of widely used 3D mechanical design tools (e.g. SolidWorks). There were not any simulation/virtualization tools, which could link the "physical process" to the "information process" (i.e. PLC software and program). The DITAC project aimed to reduce the efforts needed for an after-sale change, providing virtual support/simulation for the required design changes.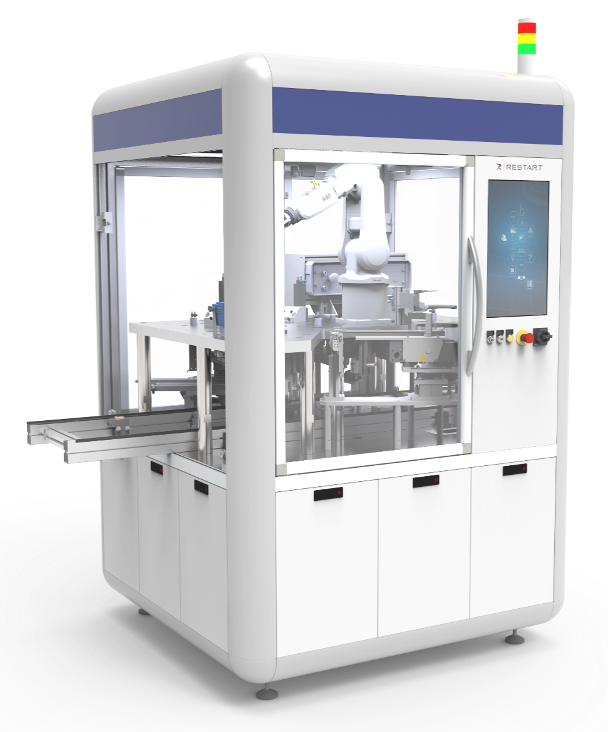 There were two partners involved in the project next to Restart Srl., IDM-Systems Zrt. and CNR-IMATI. IDM-Systems Zrt. had the task to create the digital models and virtual commissioning interface based on Restart standards. CNR-IMATI needed to analyse the data coming from the digital twin and from Restart and predict the future state of the Restart production line using machine learning methods.
Throughout the entire experiment, the main focus was on the digitalization of Restart's main products as an Industrial product (mechatronic systems) and the main target was to develop cyber-physical systems (CPS) from them. The first step to create the digital twin was to understand the operation of the production cell and to create the kinematic model in Siemens Tecnomatix Process Simulate based on the available as-built 3D CAD files. The second step was a complete PLC project analysis to create a simulated environment in SIMIT, the so-called control digital twin, that can be connected to the kinematic CAD model. The integration between the simulated machine and the emulated PLC environment has been connected through a standardized interface. Finally, the digital twin had to be connected to the machine learning algorithm to predict sensor-cable degradation. The outcome of this combined effort has resulted in a cloud platform-based product offered as an easy-to-deploy solution, which integrates with any standard frameworks via open APIs.
Technical impact
From a technical point of view, the three partners in the experiment (Restart Srl., IDM-Systems Zrt. and CNR-IMATI) successfully created digital twins for two production cells which proves that they are capable for such tasks in the future as well. There are many technical achievements in this project:
Creating a Proof-of-Concept digital twin based on existing Restart machine provides the chance to test and validate PLC programs in safe environment
dedicated emulation blocks (SIMIT) for Restart's standard (element library)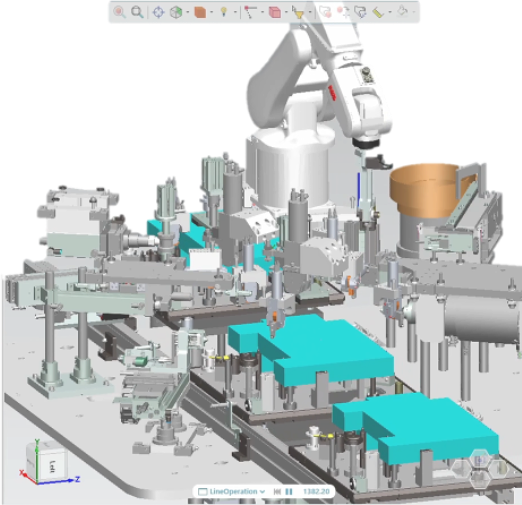 dedicated Process Simulate blocks for Restart's standard
dedicated Process Simulate function for Post-Request data for machine learning (ML)
Process flow and element library was validated on a second machine, which means robust and reusable components
Virtual commissioning environment with connected Process Simulate, SIMIT and Simatic Manager software and external communication to ML model
A dockerized and robust ML model that can reliably detect the kind of analog cable problem specified by Restart using Kistler sensor data
User manual as an additional deliverable.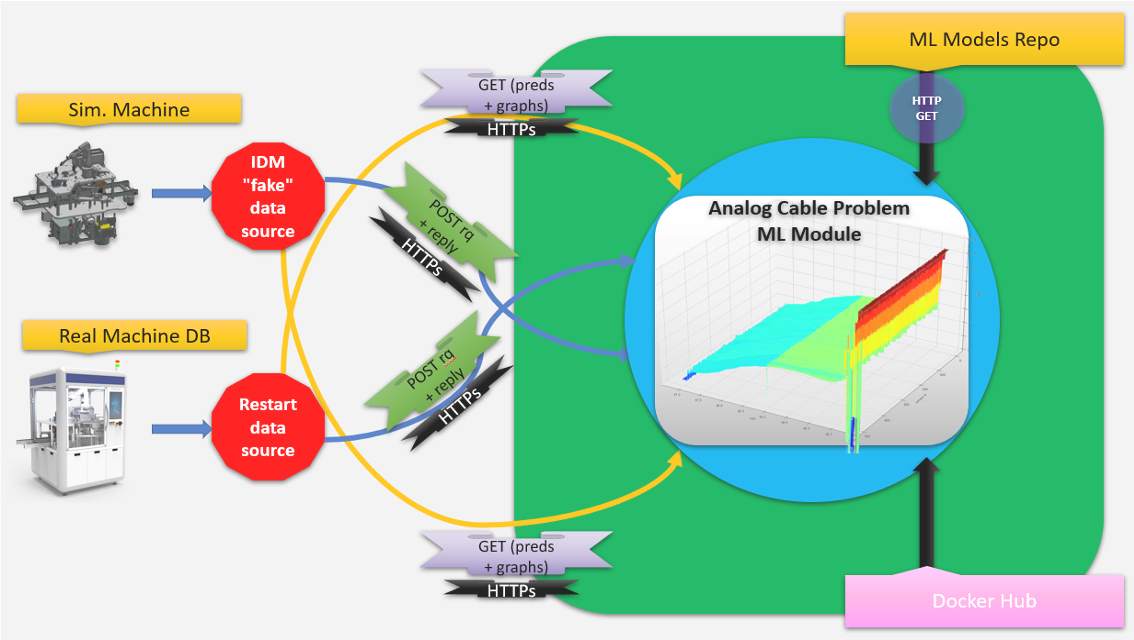 Economical improvements for all participants
All participants and the end-customers can benefit from the project, the main advantages of using digital twins and virtual commissioning are:
Decrease of onsite needed time and of machine downtime benefit financially
Shorter time for modification with less risk and cost at the end
Less stress during the real commission thanks to the pre-tested PLC program
FAT-test or pre-test are possible online with the end customer
Better quality of the software and fewer warranty repairs required
Digital twin modules extend the company's scope and improves the quality of service
Offering of Digital Twin as-a-service and increases the interest of new customers (IDM-Systems has already received an order for a cell with multiple robots)
Possibilities for predictive maintenance
Reduction of downtime enables a reduction of lost income due to the limited production for the end-customer
Savings in term of parts, which are marked as permanently lost due to the predictions
Virtual commissioning can provide financial benefits for high-value single products as well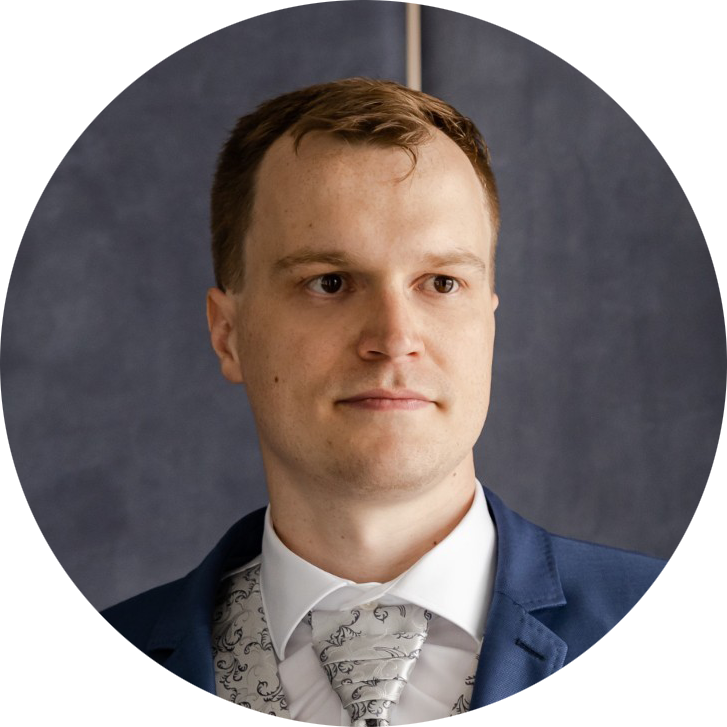 Tamás Jávor,
Senior Project Engineer
at IDM-Systems Zrt.
"The DIGITbrain DITAC project allowed us to develop a standardised virtual commissioning environment to pre-test PLC programs in safe environment. Further, it enabled us to extend our company's scope in digital twin technologies and to offer digital twin as-a-service for new customers."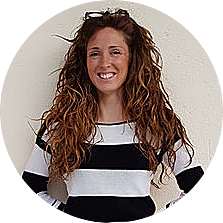 Margherita Costa
Marketing and Communication
at Restart automation.
"The DIGITbrain DITAC project aimed to reduce the efforts, costs and downtime needed for an after-sale change, providing virtual support and simulation for the required design changes. In addition, our goal was to predict cable degradation in our production cell using the digital twin with machine learning algorithm."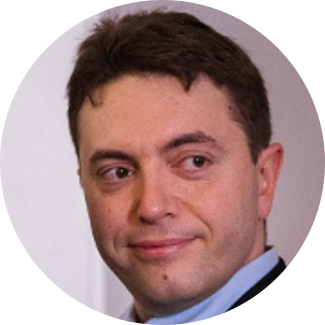 Andrea Ranieri,
Research Scientistat CNR-IMATI
"The machine learning classifier developed in the DIGITbrain project can optimize a production line by saving components. Even before a failure, parts begin to be marked as permanently lost, in real-time, due to the algorithm's predictions. I recommend participating in the project for SMEs interested in innovative technologies like ML and predictive maintenance."
Stay up-to-date about DIGITbrain Project!
Subscribe to our Newsletter!