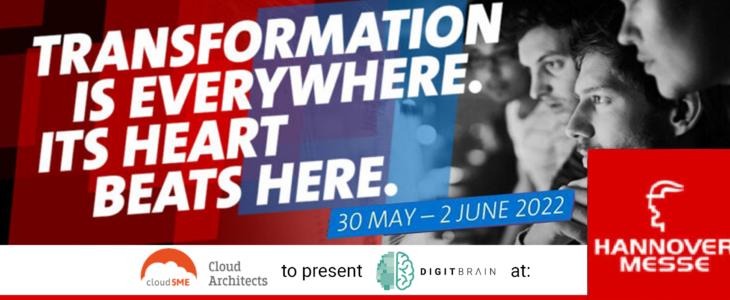 Meet us at the Hannover Fair from 30 May - 2 June!
The preparations for this year's Hannover Messe in Germany are in full swing! DIGITbrain partner, cloudSME, has been invited to join the stand of the local state of NRW (Ministry of Economy, Innovation, Digitalisation and Energy) as co-exhibitors. There the German cloud service provider will and will present DIGITbrain Project and success stories from its experiments at the CAE-Forum.
Stand of the NRW Ministry of Economy, Innovation, Digitalisation and Energy: Hall 11, A13/B13
Also, cloudSME will present "emGORA workspace - ecosystem for smart manufacturing", which has been developed in CloudiFacturing Project and will represent the platform to be extended in DIGITbrain Project with an augmented digital-twin concept called "Digital Product Brain" (DPB) and a smart business model called "Manufacturing as a Service" (MaaS).
emGORA workspace (ews) is an ecosystem that puts users first and provides qualitative information and concrete support for the digital transformation of the manufacturing sector. emGORA workspace lives through its members and cohesion. All offers on ews are provided by third parties. In addition to passing on qualitative knowledge to manufacturing companies, they can also access and use directly executable software licences on ews.
Get in contact with cloudSME, if you want to learn more about DIGITbrain or emGORA and join their presentations!
Presentation of DIGITbreak Experiment at the Hanover Fair 2022