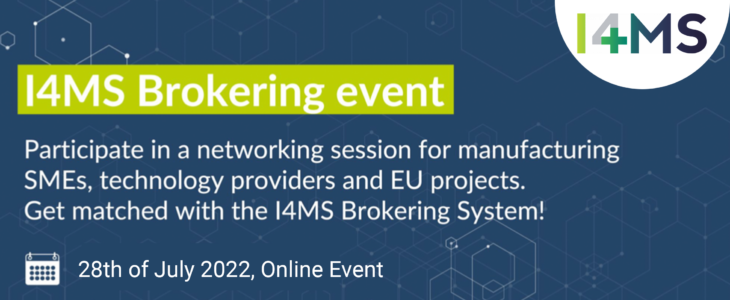 Meet us at the I4MS Brokering event on 27th April 2022! Besides other projects, DIGITbrain will present at the event. 
Get first hand insights into EU Innovation Actions and their Open Call procedures and learn about equity-free funding opportunities and discover the tool that will help you get matched with the best experts in the I4MS ecosystem!. DIGITbrain will introduce their future plans and present the Digital Agora which will provide a standards-based ecosystem on which digital twin models can be deployed, executed, and exploited. This will represent a revolutionary breakthrough for the digital twin market, enabling the democratisation of the digital twin use and a shift toward the use of the Digital Brain.
Join the event and pose your questions directly to DIGITbrain members during the networking session.
Who is this event targeting at? 
If you are a tech provider, an SME or a stakeholder driving innovation in the manufacturing field this 4th round of I4MS brokering for you!
Date: 28th July 2022, 11:00 AM - 12:30 PM CEST
Agenda
11:00 – 11:15: Equity-free funding opportunities to test new tech from the European Commission
11:15 – 11:30: I4MS Brokering System functions
11:30 – 12:33: Networking activities