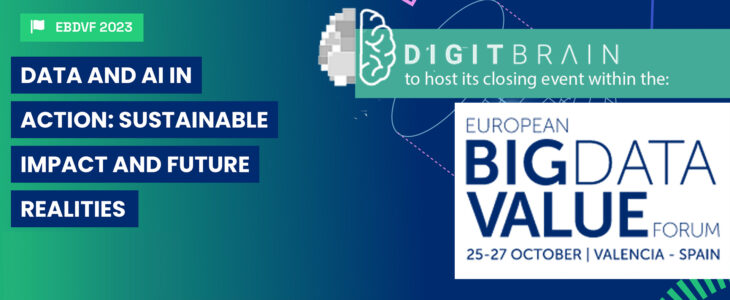 We are thrilled to announce that we are hosting our closing event under the umbrella of the European Big Data Value Forum (EBDVF) on 26th October in the vibrant city of Valencia. The European Big Data Value Forum is a leading platform that brings together data-driven innovators, researchers, industry experts, policymakers, and businesses from across Europe. It marks an extraordinary opportunity to dive deep into the realm of big data and explore its transformative impact on various sectors, such as manufacturing, mobility, healthcare and others. This year's gathering promises to be an unforgettable experience, showcasing the cutting-edge advancements and future possibilities of big data.
Taking place in Valencia, a city renowned for its cultural heritage and technological prowess, the event will be a melting pot of ideas, knowledge exchange, and networking opportunities. The event will provide a diverse range of engaging sessions, presentations, workshops, and exhibitions and will offer DIGITbrain the perfect platform to showcase its final results, represented by the DIGITbrain solution, enabling a modularized approach to the development of digital twins, the Digital Product Brain, and the Manufacturing as a Service Concept. Learn more here.
Save the date and stay tuned for more information on registration, speakers, and the agenda of our closing event, which will be published here soon!
Meanwhile, for more information, please visit the European Big Data Value Forum's official website:

About the European Big Data Value Forum (EBDVF):
The European Big Data Value Forum is a prominent annual event that serves as a meeting point for the big data community in Europe. It aims to strengthen collaboration between industry, academia, and the public sector by promoting innovative ideas, research projects, and initiatives in the field of big data and data-driven innovation. The EBDVF plays a vital role in shaping policies and strategies related to big data at the European level, fostering growth and enabling organizations to leverage the potential of data for societal and economic benefits.